Series of summer outdoor music performances starts on 3 June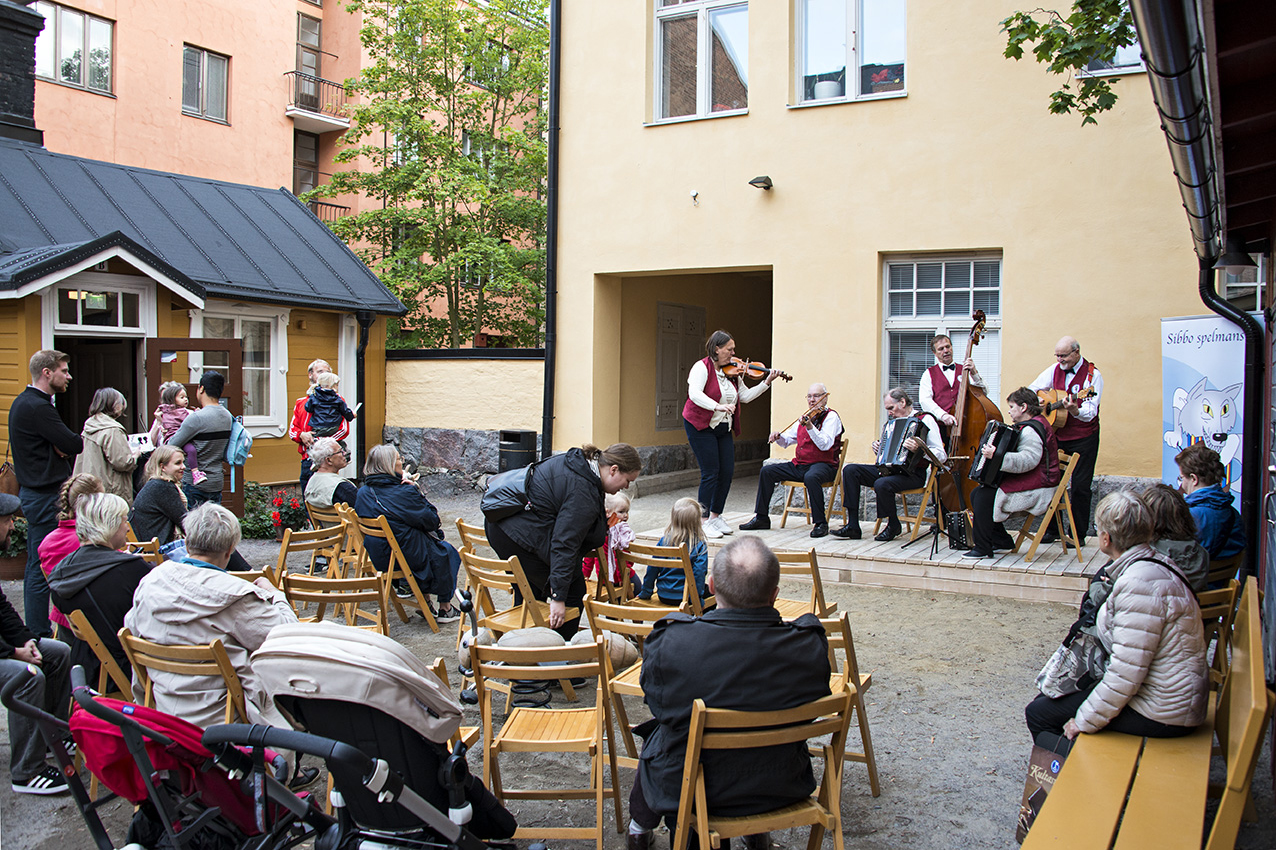 The series of summer outdoor music performances at the Burgher's House starts on 3 June. Come and enjoy live music in the atmospheric yard of the wooden house every summer Saturday at 14:00. The programme includes soulful roots music, traditional folk songs, Latin pop songs and rhythm music from Finland and elsewhere. Entry to events is free of charge.
Sat 3 June at 14:00 Wasel & the Weasels
Wasel & The Weasels is deeply steeped in American roots music, old country and blues, which the band has transformed and adapted into Finnish. This is 'Roots Music for the Finnish Sisu and Soul.' The band consists of Wasel Arar (vocals, mandolin), Marja Zilcher (vocals, fiddle), Klaus Hurskainen (banjo), Juho Kyyhkynen (guitar) and Jani Snellman (upright bass).
Sat 10 June at 14:00 Sing, Dear Cuckoo – Animal Songs and the Singer's Life
The vocal ensemble Inehmo recite Finnish folk poetry accompanied by traditional tunes from other Finno-Ugric peoples; fables and singer's life inspired by Ingrian, Karelian, Mordvinic, Seto, Udmurt and Mari melodies. The ensemble consists of Riitta Bergroth, Milla Metsola, Pipa Paljakka and Virpi Sahi, who have been singing together for around twenty years. Inehmo's musical ideal is that of a traditional village choir.
Sat 17 June at 14.00 Atomic Ninel & Matilda Mother band – Different and Surprising
Ninel Grönholm and Tomi Christiansson play rock and folk music with guitar and drums. They will also be performing their own compositions from their visit to New York, which took place on 17–26 March 2023. Perhaps we will even get to enjoy another freestyle jazz solo from a blackbird like in summer 2022 in the yard of the Burgher's House?
Sat 1 July at 14:00 Marino & Sunrise Orchestra
Marino & Sunrise Orchestra takes you on a drive along the boulevard of memories with evergreens, Latin pop songs and music from Helsinki. These guys have been throwing gigs both together and separately for over fifty years and are still going strong.
Sat 8 July at 14:00 Singelit
Singelit is a choir composed of former singles and current ambassadors of love who sing about the one and only: folklore! Just kidding, folk music is just the group's latest venture, and the choir is now holding a final rehearsal concert before participating in the Kaustinen Folk Music festival for the first time. The concert will also feature music from Singelit's standard repertoire, meaning rhythm music from the 60s all the way to the present day. The choir's newest director in its 13th operating year is Veera Voima.
Sat 15 July at 14:00 Sumer is icumen in! – Summer songs from the Middle Ages
Lasse Lindgren, vocals, citole, percussion, and Meri-Sofia Lakos, violin, recorder, kemenche, perform summer songs from the Middle Ages and Lindgren's own compositions inspired by the Middle Ages.
Sat 22 July at 14:00 RE / Love
Ensemble Gamut! invites listeners on a meditative journey through time. The trio's music combines medieval tunes, improvisation, original compositions and Finnish folk music. The ensemble's albums UT and RE have gotten rave reviews in Finland and internationally. The group consists of Aino Peltomaa (vocals, medieval harp, percussion), Ilkka Heinonen (jouhikko (bowed lyre), viola da gamba) and Juho Myllylä (recorder).
Sat 29 July at 14:00 Amina
Dance artist Amina dances in honor of Martta Bröyer. Amina is a long-time dance artist and soloist dancer, as well as a popular dance teacher. Sometimes poetry, song and theater are also involved in Amina's performances, inspired by the audience and the heat of the moment.
Sat 5 August at 14:00 Kukkanen
Kukkanen make their own music full of urban and human stories. The band consists of Juha Kareinen (vocals and guitar), Ari Lehtinen (bass) and Katja Lamberg (violin and wind instruments).
Sat 12 August at 14:00 Dromos
Dromos play traditional Greek music from the early 20th century with Finnish lyrics. The songs are about the sea, love, death, crime and the underworld. Dromos consists of Matti Jakobsson (bouzouki, guitar, vocals), Patrik Weckman (violin, guitar), Taina Kärhä (clarinet, vocals), Wasel Arar (bağlama), Martti Leiwo (oud, bouzouki) and Sakari Jakobsson (percussion).
Sat 19 August at 14:00 Tevri
Georgian singing ensemble TEVRI will be holding a supra in the yard of the oldest wooden house in Helsinki. Supra is a traditional Georgian celebration, a kind of "academy of the spirit," which involves gathering around a table to enjoy good company, food and drink and especially singing and deep conversations.
Sat 26 August at 14:00 Sibbo Spelmanslag
Sibbo Spelmanslag play traditional folk music from Sipoo, just like it was played a hundred years ago. The group is led by Eeva-Liisa Hannu.
Photo: Mari Valio / Helsinki CIty Museum