Martta Bröyer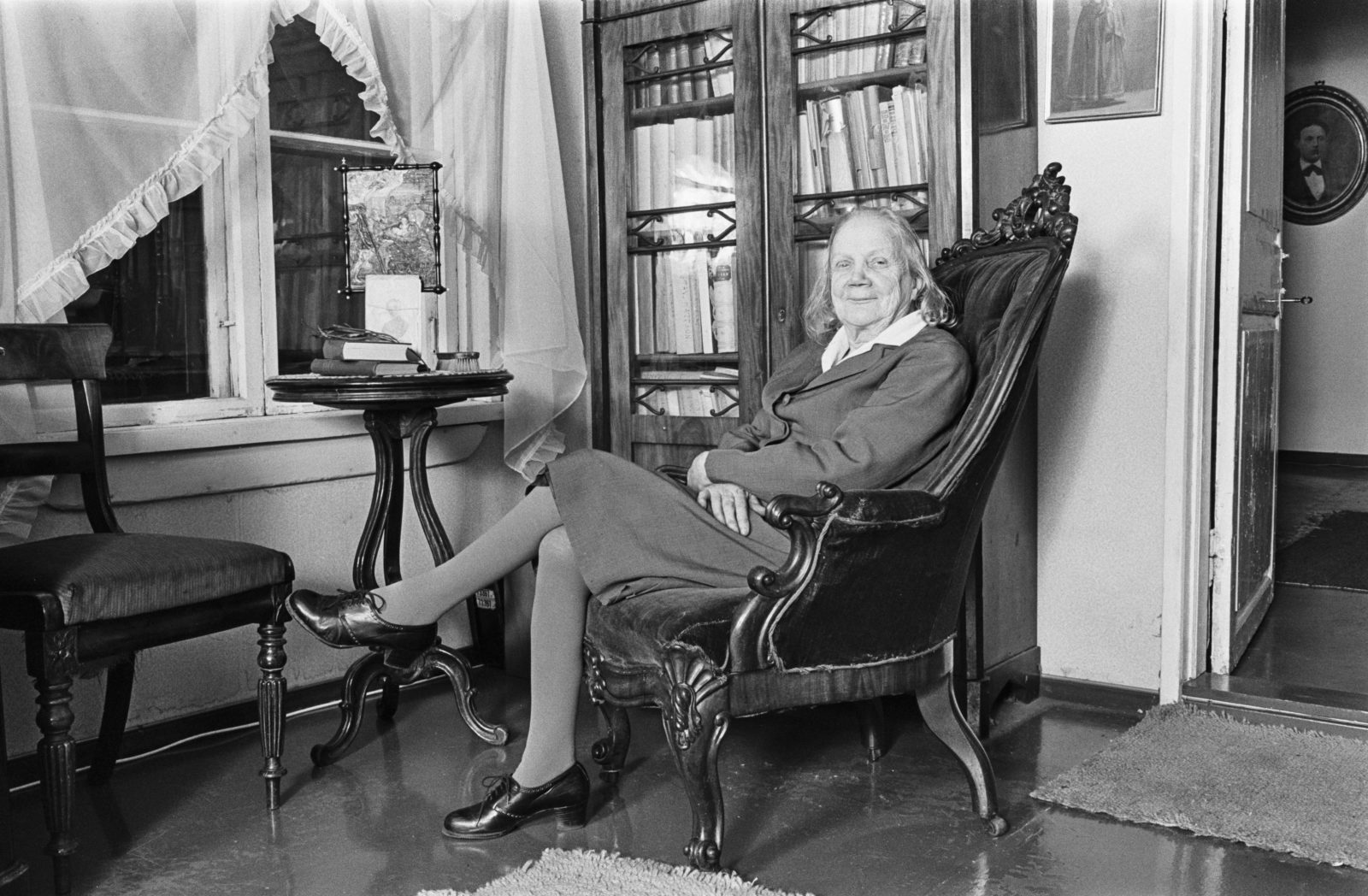 The life and career of dancer Martta Bröyer (1897–1979) included not only dance but also the preservation of her old house, which is now known as the Burgher's House Museum.
Martta Nevalainen was born in Helsinki on 20 October 1897, in the house at Kristianinkatu 12 that her mother Augusta Nevalainen had inherited from her father. The outbuildings of the property were leased out, providing the family with rental income to live on. However, the sickly mother was unable to take care of her energetic, boisterous and wilful daughter, so the upbringing duties fell upon teacher Hanna Blåfield, to whose home Martta Nevalainen moved in 1910 at the age of 13.
Since childhood, Martta Nevalainen was artistically inclined, dreaming of becoming a professional singer. Her conservative and religious foster mother did not approve of the profession of a performing artist, but this did not stop the tenacious teenager. In 1917, she dropped out of her women's college studies and set her sights on the stage, taking piano, singing and recitation lessons.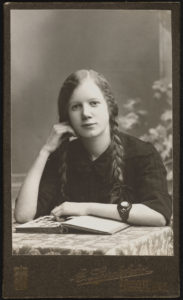 Foto: Helsinki City Museum / E. Lindström

In 1918, Nevalainen took up dance studies at Hertta Idman's dance school, and soon her dream of being an actress was replaced with aspirations of becoming a dancer. She sought to enter the Swedish-language art world and, apparently for this reason, changed her last name to Bröyer in 1919. Martta Bröyer debuted as a dancer in 1919 and started her own dance school in 1920. In the 1920s, she took study trips to Germany and particularly the educational institution of the world-famous Mary Wigman.
Martta Bröyer's dance art represented a new form of art dance that had arrived in Finland in the early 20th century and had several names: modern dance, plastic dance or free dance. The objective was to break free from the restrictive structures and rules of ballet. In addition to technical flair, the training emphasised expression and interpretation. The German term freie Tanze also refers to the freedom of dance from music.
Instructed by Mary Wigman, Martta Bröyer delved into subjects such as folklore and adopted the idea of dance being accompanied with nothing but percussion instruments. She used this idea as the basis for creating her own style, i.e. Bröyerism, which means dance accompanied with recitation. This new art form made its debut on the stage of Kino-Palatsi in 1927. Bröyerism was never showered with unreserved praise by critics.
Teaching dance was important to Bröyer from the start of her career, and by the standards of the time, she was a progressive pedagogue who encouraged her young pupils to engage in creative self-expression and reserved room for their own choreographies in performances. Bröyer was awarded the Pro Finlandia medal in 1956, and Martta Bröyer School was in operation until the 1960s.
In 1912, Martta Nevalainen inherited the Kristianinkatu 12 property and its buildings from her mother at the age of 15. Once she was of age, she was solely responsible for maintaining the property, acquiring lessees and collecting rental payments. Of course, the young house owner understood that even with its burdens, the estate made her dance career possible. She also had an emotional connection to the buildings. Her mother's stories of the family's life in the house, having grown up in a traditionally-minded noble family and the National Romanticism of the time strengthened her interest in history and her own roots. In the early 1930s, Martta Bröyer was already aware of the historical value of her buildings and wanted to secure their preservation.
When the worn-out wooden buildings were in need of major renovations in the early 1950s, Martta Bröyer offered them to the City of Helsinki with the condition that she would get to keep the property and the stone outbuilding with its rental income, and that the City would repair the wooden buildings for her to live in and transfer them to Seurasaari after her passing. The City rejected the offer, prompting Bröyer to have the buildings repaired at her own cost.
In 1955, Martta Bröyer returned to her childhood home. The old wooden house devoid of modern comforts was an unusual place to live in for the aging artist who readily showcased her home in papers and magazines. Bröyer decorated her house in a museum-like fashion with furniture and old items that she had inherited. She liked to tell stories from times past to tourists and school groups who often visited the house, especially at Christmas time.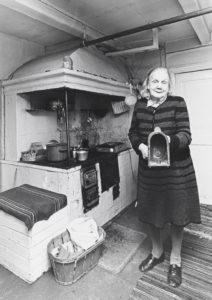 Foto: Helsinki City Museum / Patrick Oras 1973
As she began to run out of strength in the early 1970s, Martta Bröyer offered her property to the City of Helsinki. The wooden buildings from the early 19th century, reserved in place, had become something of a rarity, so in 1974 the City bought the Kristianinkatu 12 property. In 1976, it was decided that the wooden buildings would be turned into a museum. Martta Bröyer lived nearby on Rauhankatu for a few years, followed by a brief stay in an elderly people's home before her death on 23 July 1979. In 1980, the old buildings that she had cherished for decades were opened as a museum called the Burgher's House.