Enjoy music from near and far on the Night of the Arts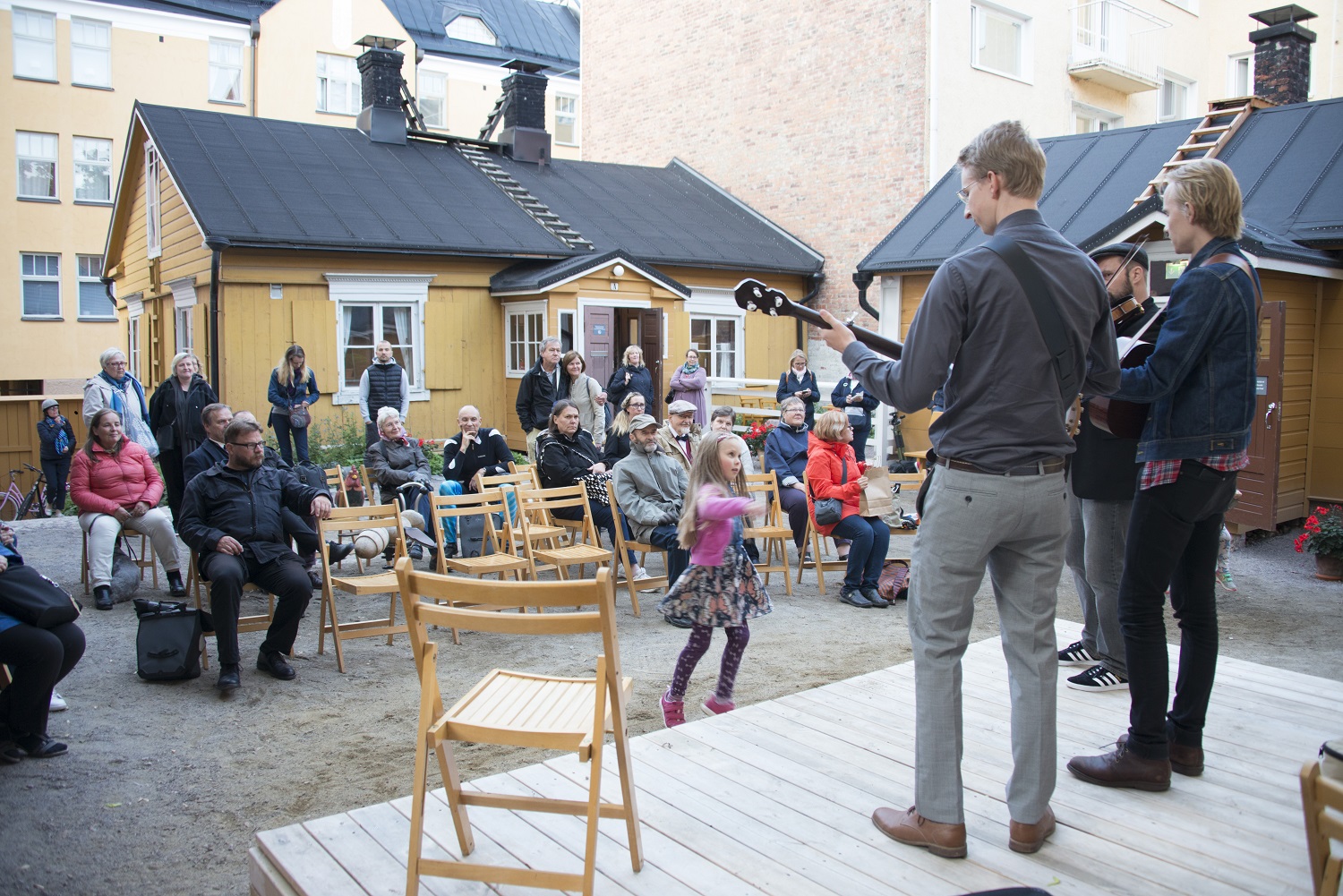 On the Night of the Arts, Thursday 23 August 2018 from 6–10 pm, the yard of the Burgher's House will be filled with folk music from near and far.
At 6 pm, the night will be kicked off by the gentle, yet wild children's music orchestra Orffit. Orffit is an all-dad band featuring three members: Kimmo, Matti and Hannu. You might have also seen Orffit in the TV series Laulujen osto- ja myyntiliike. Orffit have guitars, saxophones, accordions and a drum set that is itty-bitty peculiar.
At 7 pm, the stage will be taken over by the vocal ensemble Inehmo, who recite Finnish folk poetry accompanied by traditional tunes from other Finno-Ugric peoples; creation myths and fables inspired by Ingrian, Karelian, Mordvinic, Seto and Mari melodies. The ensemble consists of Riitta Bergroth, Milla Metsola, Pipa Paljakka and Virpi Sahi, who have been singing together for around twenty years. Inehmo's musical ideal is that of a traditional village choir.
At 7:45 pm, it's time for the Finnish newgrass stylings of Mikkels Sons, which mix deeply-rooted North American traditions with the tones of Finnish folk music and the rhythms of popular music. In other words, "something old, something new, something borrowed, something blue."The band consists of Miika Hynninen on vocals, violin and mandolin; Joona Kivinen on banjo and vocals; Tero Kumpulainen on double bass and vocals; and Antti Tuominen on guitar and vocals.
At 8:30 pm, the stage will be handed over to Helsinki Klezmer Kapelye, a twelve-member ensemble established in 2003. Klezmer is a musical tradition of the Jews of Eastern Europe, dating back to Medieval times. In the 19th century, the music of wandering klezmorim became a highly distinct genre, drawing inspiration from both the rich and vital Jewish culture and outside influences.
At 9:15 pm, the evening will be concluded by Bandandjou, an ensemble offering a taste of traditional West African music. Their rhythms are rooted in farming, hunting and various other situations that people face in their lives. The performance consists of melodic songs, lively drum rhythms and energetic dance numbers. The ensemble consists of Djomba Kourouma on vocals, bolon and djembe; Alya Yattara on krin, dununs and djembe; and Saara Kourouma on vocals, dance, calabash and dununs.